OUR WORK IS HERE among the trees. So are our homes, families and the communities in which we live. But it's not just our quality of life that depends on the forest. At the nexus of agriculture and manufacturing, Michigan's forests play a major role in the state's economy and, in turn, quality of life of its citizen. Michigan citizens use sustainable forest products every day, consuming 800 million cubic feet of woods products each year.
---
2012 MFPC Annual Report            2013 MFPC Annual Report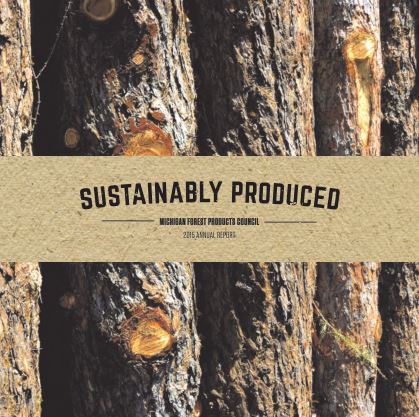 2014 MFPC Annual Report
---
The Michigan Forest Products Council (MFPC) continues to lead the way in representing the state's entire forest product industry value chain. 
The future is bright. Going forward into a new era, manufacturing will focus attention on increasing success in four key areas: economy, access, sustainability and transformation. As we move into the future of our industry, MFPC will continue supporting its members through a positive approach to problem solving and change, taking initiative, creative thinking and solutions. 
Our work is ongoing, but I am proud of the progress we have made in the past year and our continued success as a key component in this state's economy. As we move into the next year, I anticipate the progress and challenges yet to come. 
MICHEL SUSSMAN
IMMEDIATE PAST CHAIRMAN || Michigan Forest Products Council  DIRECTOR OF BUSINESS PROCESS ENGINEERING || Verso Paper
---
BOARD OF DIRECTORS
Ron Salisbury || CHAIRMAN
PLANT MANAGER || Potlatch
Todd Johnson II VICE CHAIR
RESOURCE MANAGER || Weyerhaeuser
Mark Pontti II TREASURER AND FOUNDATION CHAIR
PUBLIC AFFAIRS MANAGER II Verso Corporation
Brian Glodowski II SECRETARY
MANAGER OF FOREST OPERATIONS || Keweenaw Land
Craig Timm || PAST CHAIR
REGIONAL PUBLIC AFFAIRS MANAGER || Domtar Industries
Marc Blom
DIRECTOR OF FINANCE || JM Longyear
Margaret Minerick
PRESIDENT || Sagola Hardwoods
Tim Biewer
VICE PRESIDENT || Biewer Lumber
Dennis Werblow
RESOURCE MANAGER || Decorative Panels International
Dave Stephenson
PRESIDENT || AJD Forest Products
Larry Burkholder
BIOMASS AND BUSINESS DEVELOPMENT || Morbark
Mark Korkko
PROPERTY MANAGER || Molpus Timberlands Management, LLC
Robert Peretin
PLANT MANAGER || Packaging Corporation of America PCA
Eric Stier
AREA MANAGER || American Forest Management (GMO)
Chad Radka
RESOURCE MANAGER || Lousiana Pacific Corporation, Newberry
Todd Maki
PLANT MANAGER || Louisiana Pacific Corporation, Sagola
Tom Shannon
PLANT MANAGER || Rock Tenn
Bob Edwards
RESOURCE MANAGER || Timber Products Company
JR Richardson
OPERATIONS MANAGER || Traxys Power Group
Kurt Bisballe
PRESIDENT || Bisballe Forest Products
Tuffy Burton
OWNER || Tuffy & Sons, LLC
---
Interested in joining MFPC? Download our new member packet here and get started today!