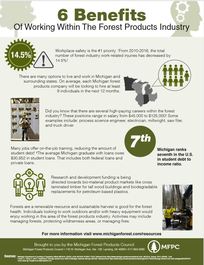 At it's very core, timber harvesting is the most basic forest management activity. It is an important part of keeping both forests and the communities that depend on them healthy and sustainable. Skillful logging creates wildlife habitat and protects streams from erosion and landscapes from fire, while supporting our country's seventh largest industry: forest product manufacturing. 
Building products, paper products, and packaging materials are derived from harvested timber, as are a wide variety of consumer products, such as tissue and medical dressings - and new products are constantly under development. Forest-based materials are also becoming an important part of the quest for renewable energy. From the the people who harvest the timber, to the engineers programming the manufacturing equipment, everyone plays a crucial role in the forest products supply chain. 
Nationwide, demand for forest products is growing and we have a career for just about everyone! 
Do you want to: 
Work outside?
Utilize cutting-edge technology?

​Saw filer
Sawyer
Process engineer

Drive highly mechanized heavy equipment?
Work in sales or purchasing?

​Wood procurement manager
Input purchaser
Product sales associate

Be detail oriented?

​Lumber inspector
Production worker​
Plant operator

Work hands-on?

​Electrician
Millwright
Maintenance/Mechanic
Each year the Michigan forest products industry harvest about 12 million tons of wood. Just one of these tons will generate about $1,600 worth of economic activity, which is just a part of the $20.3 billion contribution to the state's economy. Of the $20.3 billion generated each year, $5.2 billion stays right here in Michigan as take-home pay to 96,600 Michiganders.
In fact, the forest products industries provide more direct employment than: commercial fishing, hunting and trapping; mining and oil and gas production; and agricultural production. Over one-third of manufacturing jobs in the Upper Peninsula were in the forest products industries and a projected 250 more jobs will be added in the next two years.
As baby boomers retire in ever-increasing numbers, employers throughout Michigan are facing a growing problem finding workers with the education, training and skills needed to fill their jobs. The council, in partnership with MDARD, reached out to wood manufacturers statewide to help form a clearer picture of the current talent gaps and opportunities within Michigan.
32 MFPC member companies of varying size were surveyed with an average company size of 92 employees. 42.5 percent of those employees were between the ages of 30 and 55 and 19 percent were over the age of 55. Based on our survey results, on average each company will be looking to hire 9 individuals in the next 12 months. However, 87.5 percent of companies said that they are having difficulty finding employees that are adaptable, know how to operate technology and machinery, and are dependable.
The top five upcoming available jobs in the primary wood manufacturing industry are: plant operator, production worker, process engineer, millwright, and electrician. These positions range in salary from $22,000 to $125,000 and require skills like troubleshooting, program logic controls, mechanical aptitude, computer skills, fabrication, or electrical knowledge.
See what we think are the top six benefits of working within the forest products industry in the PDF linked below.