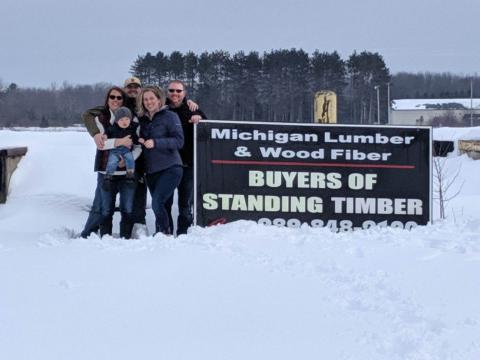 LANSING, Mich., – With his purchase of the former Georgia Pacific particleboard manufacturing site in Gaylord finalized, Tim Bills of Michigan Lumber and Wood Fiber said that he will be bringing jobs and infrastructure back to the area.
Bills began negotiations with Georgia Pacific to purchase the land after his Comins sawmill of 10 years was destroyed by fire on June 1, 2019. The purchase of the 850-acre parcel was finalized on January 23, 2020 and feels like an achievement, in and of itself, for him.
"I've been working on this for about 4 months," said Bills. "I used to be one of the top suppliers for the Georgia Pacific mill. After they closed I continued to have a good relationship with them. This acquisition feels full-circle for me."
Bills is no stranger to large investments. In 2017, he purchased over 4 million dollars in state-of-the-art technology and equipment for the Comins mill. Unfortunately, most of that is now carbonized.
It was very traumatizing for Bills and his workforce when production came to a halt in June. But the team at Michigan Lumber & Wood Fiber is familiar with fast growth, and finally having a building site has reenergized everyone involved.
Bills' goal is to have the mill open and operational by late spring/summer—a feat which will be made slightly easier by the infrastructure unique to this specific piece of land. Though the buildings at the former particleboard site were torn down approximately five years ago, Bills plans to rebuild his mill on portions of the remaining concrete pads.
"There are weigh-scales and some other infrastructure that will allow us to get production started in record time" says Bills.
With this acquisition, Bills joins a handful of other forest products manufacturers and sawmills in the area vying for similar wood species, but he doesn't see that as a problem.
"There's always competition but competition is healthy no matter what industry you're in," he said.
Most of the wood Michigan Lumber and Wood Fiber harvested was turned into railroad ties and Bills plans to do that again.
"Before the fire we were the largest wood supplier for the railroad tie market in Michigan," said Bills. "After the fire, it was quite a struggle for multiple customers because we were such a large producer, but they were able to keep their operations running and are looking forward to us coming back online."
Bills estimates that about 30-40 jobs would be created by the mill's initial re-opening but noted, as a vertically integrated company, that doesn't include the increase in loggers, chip crews operators, truckers and administrative staff that will be required to support his production goals. It also does not encompass the job creation of his long-term goals for the property.
As a Michigan native, improving the economy in the area he and his family were born, raised and live in is very important.
"I didn't just lose my operation and my livelihood. There were 40-50 individuals that were suddenly unemployed," said Bills.
He knows most of his past team members have found work elsewhere, and many of them may not be willing or able to make the commute to Gaylord. However, he and his remaining team are optimistic that the talent in the community of Gaylord will be able to satisfactorily fill the void.
Members of the MEDC, MDARD, and the Otsego County Economic Alliance have been active in helping with this relocation, and Bills hopes this will prove indicative of the overall attitude of the Gaylord and surrounding community's feelings.
Lisa McComb, executive director of the Otsego County Economic Alliance, said the Alliance shares Bills' enthusiasm for the purchase of the site.
 "We've been working with them for the past several months to facilitate their movement to Gaylord and we're excited to have them," she said.
Bills plans to start hiring team members of various skill levels in late April and early May. If you are interested in applying, send your resume and cover letter to tim@ml-wf.com.
###
Media Contact:
Amanda Hattis
989-657-4217
Tim Bills
989-848-2100
Publication Date:
Tuesday, January 28, 2020