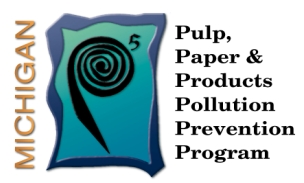 P5 Program, Goals and Objectives
The Pulp, Paper and Products Pollution Prevention (P5) Program's mission is environmental improvement in concert with sustainable economic growth. The P5 Program utilizes the waste minimization hierarchy of source reduction, recycling-reuse, treatment, and disposal, including actions implemented in response to regulations. The goals and objectives are described below.
Program Goals and Objectives
Work with members to identify environmental substances of concern and establish priorities and goals for the reduction of their use, generation, discharge or emission. The basis for determining which activities to pursue will be based on their environmental impact and economic and technical practicality.
Support the National Council for Air and Stream Improvement (NCASI) in its duties as a technical "clearinghouse" for member submittals of the environmental data. Based on this environmental data, industry-wide reports will be prepared jointly released by the Michigan Department of Environmental Quality and the forest products industry.
Work to introduce initiatives, publications, and/or outreach activities directed toward the forest products industry in the Great Lakes States and the Province of Ontario.
Develop and distribute case studies with P5 members to enhance technology transfer between members. Technology transfer activities shall be subject to business confidentially and anti-trust regulations.
Promote pollution prevention information and technologies through all means available (e.g. meetings, mailings workshops, conferences, email offerings, and website. Any regulatory impediments to pollution prevention will be identified and addressed.
Promote further integration of P5 program objectives with other applicable pollution prevention partnerships, programs and initiatives.